Hawaiian Teriyaki Chicken
| | |
| --- | --- |
| Serves: | 3 |
| Recipe Type: | Non Veg. |
| Calories Per Serving: | 658 |
| Preparation Time: | 15 M |
| Cooking Time: | 30 M |
| Difficulty: | Average |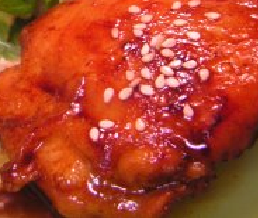 Ingredients:
5 pounds Chicken (thighs) (bone-in, with skin)
1 tbsp Oil
2 tbsp Cornstarch (dissolved in 1 tablespoon water)
Sauce
1/2 cup Sugar
1 cup Water
3/4 cup Soy Sauce (Aloha brand preferred)
1/2 inch piece Ginger (smashed)
1 Garlic, (clove) (smashed)
Cooking Instructions:
Preheat oven to 350 degrees.
Combine sauce ingredients in pot and bring to boil. Turn off heat and stir to dissolve sugar.
Mix all of the ingredients for the sauce.
Remove 1/2 cup of sauce for dipping; set aside remainder.
Heat oil in heavy skillet and dip the chicken pieces in the 1/2 cup sauce, then sear in skillet, working in batches.
Place seared pieces in baking pan, skin side down.
Pour any remaining dipping sauce over chicken.
Bake 60 to 70 minutes, until cooked through.
Remove garlic and ginger from reserved sauce.
Bring sauce to simmer.
Stir in cornstarch slurry and stir to thicken.
Pour sauce over chicken.
Suggestions: