Tuna Fish Cake
| | |
| --- | --- |
| Serves: | 2 |
| Recipe Type: | Non Veg. |
| Calories Per Serving: | 439 |
| Preparation Time: | 15 M |
| Cooking Time: | 20 M |
| Difficulty: | Easy |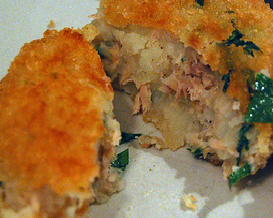 Ingredients:
500 gms tinned Tuna Fish-Flakes
2 Onions (finely chopped) (medium)
2 Green Chillies (finely chopped)
5 Curry Leaves (finely chopped)
1 tbsp Lemon Juice
1 pinch of Turmeric Powder
1 tbsp Maida Flour
1 tsp Salt
2 tsp Pepper Powder
2 tbsp Corn Oil
Cooking Instructions:
Mix the drained tuna flakes with chopped onions, green chillies and curry leaves. Mix well.
Add lemon juice, turmeric powder and maida flour to form a thick paste.
Add salt and pepper powder and mix well.
Shape the mixture into heart-shaped cutlet-moulds.
Oil a microwave bowl and lay out the tuna cakes.
Bake in an oven at 350 degree F for 30 mins.
To check if done, insert a fork. If it comes out clean, then the fish cake is as good as done.
Suggestions:
Serve hot with a dipping sauce of your choice.