Chinese Fried Fish
| | |
| --- | --- |
| Serves: | 4 |
| Recipe Type: | Non Veg. |
| Calories Per Serving: | 65.2 |
| Preparation Time: | 20 M |
| Cooking Time: | 30 M |
| Difficulty: | Average |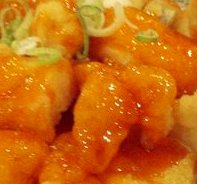 Ingredients:
56 grams Wooded Ear Mushrooms (soaked in warm water for 30 minutes)
500 gm Fish (cleaned and diced)
250 gm White Flour (Maida)
6 Black Pepper (finely crushed)
200 gm Shallots (minced)
1 tbsp chopped garlic
1 bunch small Parsley Leaves (chopped finely)
2 tbsp Cornstarch
300 ml Chicken Stock
Peanut Oil (as per requirement)
Salt to taste
Cooking Instructions:
In a vessel, mix the pepper and flour with salt then smear the fish pieces to it.
On medium heat,place a pan and pour oil then fry the pieces till they become golden brown.
Take the pieces out of it and keep it in a different plate
In the preheated pan of oil,sauté the shallots and garlic for 1 minute.
Add the mushrooms with salt and pepper.
Saute it for five minutes then add the chicken stock.
Bring it to a boil and add the cornstarch mixture.
Stir continuously for 2 minutes then reduce the flame.
Add the fish pieces to it and simmer it 5 minutes.
Top it with the parsley.
Suggestions:
Best serve it rice or fried rice.