Filipino Chop Suey
| | |
| --- | --- |
| Serves: | 4 |
| Recipe Type: | Veg. |
| Preparation Time: | 20 M |
| Cooking Time: | 30 M |
| Difficulty: | Average |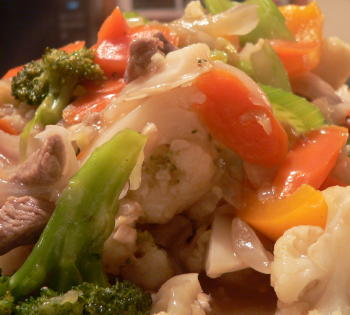 Ingredients:
½ Pound Pork (cube cut)
4 Cloves Garlic (chopped)
1 Onion (medium-sized) (chopped)
2 Potatoes (medium-size) (chopped)
1 Carrot (medium-size) (chopped diagonally)
1 Broccoli (chopped)
1 cup Shrimp (shelled and deveined)
2 tbsp Cornstarch (dissolved in ½ cup water)
2 cups Fish Balls
2 cups Chicken Broth
¼ lbs Snow Peas
2 tbsp Soy Sauce
3 cups Water
Salt
Pepper
Cooking Instructions:
First heat the oil in a pan and fry garlic and onions.
Add the pork, shrimp, and fish balls to it and cool till the meat is tender.
Add the chicken broth, carrots, and potatoes and mix well.
Then add water, soy sauce, and dissolved cornstarch to the ingredients and bring it to boil for 15 minutes
Add broccoli and snow peas and Cook for another 2 minutes.
Add salt and pepper to taste.
Suggestions: