Turkey Pot Pie Soup
| | |
| --- | --- |
| Serves: | 4 |
| Recipe Type: | Non Veg. |
| Preparation Time: | 15 M |
| Cooking Time: | 40 M |
| Difficulty: | Average |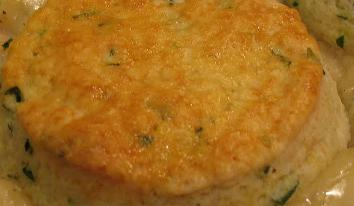 Ingredients:
1 Pie Crust
2 tbsp Light Butter (or Margarine)
1/4 cup Onions (finely chopped)
1/3 cup Flour
4 cups Chicken Broth
1 cup Milk (skim)
1 tsp Poultry Seasoning
1cup Mixed Vegetables
3 cups Turkey (white and dark meat) (coarsely chopped)
Salt to taste
Black Pepper (freshly ground)
Cooking Instructions:
Preheat oven to 400 degrees.
Unroll pie crusts and using cookie cutter cut it into shapes.
Place these cut strips on lined baking sheets and bake for 12 minutes until they turn golden brown in color.
Meanwhile, take a Dutch oven and melt butter over medium high heat.
Into it add onions and sauté it until it is totally soft for about 4 minutes.
Slowly add flour whisking it and cook for 1 minute.
Pour chicken broth and milk into it and bring it to a boil.
Reduce heat and add the vegetables, turkey and seasoning.
Add salt and pepper as required.
Simmer the soup for 15 minutes until whole of the vegetables are cooked and the soup has thickened.
Garnish with pie crusts.