Dhansak
| | |
| --- | --- |
| Recipe Type: | Veg. |
| Difficulty: | Average |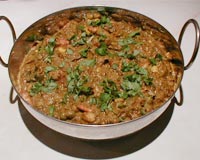 Ingredients:
1/2 cup Toovar Dal
1/2 cup Moong Dal
1/2 cup Urad Dal
1 cup Egg Plant (chopped)
1 cup Broccoli (chopped)
1 cup Tomatoes (chopped)
1 cup Onions (chopped)
1 cup Carrot (chopped)
1 tbsp Ginger-Garlic Paste
1/2 tsp Cumin Seeds
1/2 tsp Garam Masala
2 Green Chillies (chopped)
4-5 twigs Coriander Leaves
2 tbsp Oil
Salt to taste
Cooking Instructions:
Mix toovar dal, moong dal and urad dal, and wash them.
Heat some water in a pressure cooker and add the dals, broccoli and carrots in it.
After 2 whistles, turn off the flame. Mix the dals and vegetables properly.
Now heat the oil in a pan. Add cumin seeds to splutter, and then add green chillies and onions. Fry till they turn golden brown.
Add eggplant and tomatoes, and let the vegetables cook for 5-10 minutes.
Add cooked dals, salt and garam masala. Let the dish cook for another 15 minutes.
Garnish with freshly chopped coriander leaves.
Dhansak is ready to serve.