Sticky Rice
| | |
| --- | --- |
| Recipe Type: | Veg. |
| Difficulty: | Average |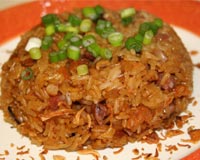 Ingredients:
4 Cups sticky rice
4 Cups water
Cooking Instructions:
Add water to the rice.
Rub the rice between hands and drain the milky water.
Repeat this till water runs clear.
Soak the rice in hot water for 3 hours.
Drain the rice.
Place it in steamer.
Cover the steamer and steam for 30 minutes.
Sticky Rice is ready.