Red Chicken Curry
| | |
| --- | --- |
| Recipe Type: | Non Veg. |
| Difficulty: | Average |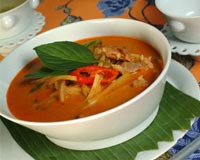 Ingredients:
800 gms Chicken (boneless)
4 tsp Olive oil
2 tbsp Thai red curry paste
2 Cups zucchini
1 Cup carrots (sliced)
1 Onion
1 Can coconut milk
1 Red ball pepper
1 tbsp Cornstarch
2 tbsp Fresh cilantro leaves
Cooking Instructions:
Cut zucchini, red ball pepper into slices.
Cut chicken into pieces.
Heat the oil.
Add chicken pieces to it and fry it for 5 minutes.
Mix curry paste, zucchini, red ball pepper, carrots and onion slices.
Cook the mixture for few minutes.
Dissolve the cornstarch in the coconut milk.
Pour it into the chicken mixture.
Boil it over medium heat.
Add cilantro leaves.
Red chicken curry is ready.