Choo Chee Prawns
| | |
| --- | --- |
| Recipe Type: | Non Veg. |
| Difficulty: | Average |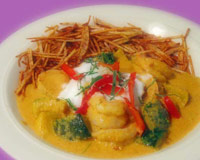 Ingredients:
1 cup Prawns
1/2 cup Mushrooms
2 cups Coconut Cream
3 Jalapeno Peppers
Dry Red Chilies
12 Garlic Flakes
2 tsp Shrimp Paste
4 tbsp Fish Sauce
1-2 tsp Palm Sugar
6 Shallots (chopped)
2 tbsp Peanut Oil
4 tsp Lime Leaves
Fresh Coriander Leaves
Cooking Instructions:
Grind red peppers and shrimp paste to make a smooth paste.
Shell the prawns; add salt, 2 tbsp water and mix it well. Keep it aside for 1 hour.
Rinse the prawns with running water. Drain all the water.
Heat the oil. Fry the mushrooms till the color is changed.
Add fish sauce and cook till tender. Keep it aside.
Heat the pan. Put 1 cup of coconut cream and heat till cream is thickened.
Stir the prepared paste till it turns aromatic.
As oil is separated from cream, season it with fish sauce and palm sugar.
Add prawns and lime leaves once the mixture turns thick.
Let the prawns cook. Mix the friend mushrooms with prawns.
Reheat and mix in chilli sauce. Choo Chee Prawns is ready.