Tom Yum Goong
| | |
| --- | --- |
| Recipe Type: | Non Veg. |
| Difficulty: | Average |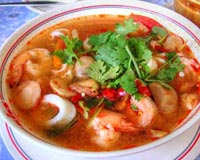 Ingredients:
3 Cups water
2 Stalks lemon grass
3 Lime leaves
2 tbsp Tamarind paste
1 tbsp Fish sauce
1 Onion (small)
1/2 Cup shrimps
2 tbsp Chilli paste
Fresh chilli peppers
1 Tomato (small)
1 Lime (small)
Fresh cilantro leaves
Cooking Instructions:
Cut shrimp into pieces.
Cut onion, tomato into slices.
Boil water.
Add lime leaves, fish sauce, lemon grass and tamarind paste.
Mix shrimp pieces and boil.
Add sliced onion and chilli paste.
Boil till shrimp pieces are cooked.
Add chilli peppers and sliced tomatoes.
Take it off from the heat.
Mix lime juice and fish sayce.
Adorn with fresh cilantro leaves.