Risotto
| | |
| --- | --- |
| Recipe Type: | Non Veg. |
| Difficulty: | Average |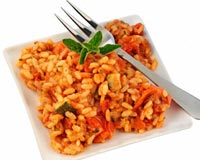 Ingredients:
1½ cups Arborio Rice
1 lit Chicken Stock
½ cup White Wine
½ small Onion, chopped
3 tbsp Unsalted Butter
1 tbsp Vegetable Oil
¼ cup Parmesan Cheese, grated
1 tbsp Italian Parsley, chopped
Rock Salt
Cooking Instructions:
In a saucepan, heat the stock until it boils. Thereafter, lower the heat so that it remains hot.
In a heavy-bottomed saucepan, heal the oil and add a tablespoon of butter to it. As the butter melts, add onion and sauté until it turns golden yellow.
Now, add rice to the mixture and stir it so that each of the grain gets coated with oil and butter. Sauté the rice for about 2 to 3 minutes.
Add wine and cook it until the liquid is fully absorbed.
Now, add a serving spoon of hot chicken stock to the rice and stir until the liquid is fully absorbed.
When the rice is almost dry, add another spoon of stock.
Repeat the process, but continue to stir, else the mixture might get scorched.
As the rice cooks, it would release its natural starches, thereby making the mixture creamy in consistency.
In case you run out of stock, use hot water. Cook until the grains are tender but still firm to the bite, without being crunchy.
Now, all you need to do is add the remaining 2 tbsp butter, parmesan cheese and the parsley, and season to taste with Rock salt.