Shrimp Szechwan
| | |
| --- | --- |
| Recipe Type: | Non Veg. |
| Difficulty: | Average |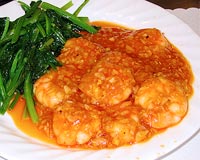 Ingredients:
4 Cups cooked shrimp
1 Cup beans sprouts
1 Cup green ball pepper
1 Cup onion
1 Cup mushroom pieces
2 tsp Ginger (minced)
1 tsp Garlic powder
1 tsp Soy sauce
2 tbsp Sesame oil
2 tsp Red pepper flakes
1/2 Cup chicken broth
4 tbsp Sherry wine
2 tsp Cornstarch
Cooking Instructions:
Chop the onions, green ball peppers and mushroom pieces.
Heat the oil.
Add chopped bean sprouts, green ball peppers, mushroom pieces, onions and minced ginger.
Stir in garlic powder.
Mix sesame oil, salt, sherry, chicken broth, corn starch and peppers in jar
Add this to the fried vegetables.
Now mix cooked shrimp to the mixture and cook till thick.
Shrimp Szechwan is ready.