Oyster Salad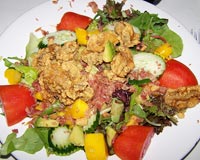 Ingredients:
100 gms Oysters (smoked)
4 Cups salad greens
1/2 Cup red onion
1 Cup tomatoes
1 Cup cucumber
1/2 Cup pine nuts (toasted)
Cooking Instructions:
Drain the smoked oysters.
Cut tomatoes and red onion into thin slices.
Add sliced onion and tomatoes with oysters.
Now mix cucumber, salad greens and toasted pine nuts to it.
Mix them well.
Oyster Salad is ready.