Lobster Quiche
| | |
| --- | --- |
| Recipe Type: | Non Veg. |
| Difficulty: | Average |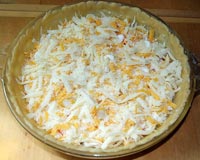 Ingredients:
1 Pie shell
1 tsp Dijon mustard
6 Eggs (beaten)
1 Cup swiss cheese (grated)
1/2 Cup sour cream
1 Cup cheddar cheese
1 tsp Worcestershire sauce
1/2 Cup scallions (chopped)
1/4 tsp Black pepper
6 oz Lobster meat (chopped)
Cooking Instructions:
Mix eggs, sauce, sour cream, Dijon mustard, pepper and sour cream.
Blend the mixture well to make a batter.
Put pie dough in pie shell.
Mix the swiss cheese and cheddar cheese.
Toss the cheese mixture with the chopped scallions and lobster.
Put the lobster mixture in pie shell.
Add the prepared batter.
Bake at 375 deg F in a preheated oven for about 45 minutes.
Lobster Quiche is ready.