Lobster Puff
| | |
| --- | --- |
| Recipe Type: | Non Veg. |
| Difficulty: | Average |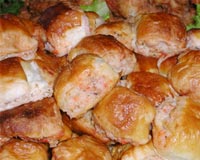 Ingredients:
4 tbsp Tapioca (granulated)
1 Cup milk
2 Cups cooked lobster meat (chopped)
1/2 tsp Paprika
2 tsp Lemon juice
2 Egg yolks
2 Egg whites (beaten)
Salt to taste
Cooking Instructions:
Grease a baking dish.
Stir tapioca and milk till transparent in the top of a double boiler.
Add chopped lobster, salt, paprika, lemon juice and beaten egg yolks.
Fold this mixture in egg whites.
Pour this mixture into greased baking dish.
Bake at 350 for 40 minutes.
Lobster Puff is ready.