Baked Oyster
| | |
| --- | --- |
| Recipe Type: | Non Veg. |
| Difficulty: | Average |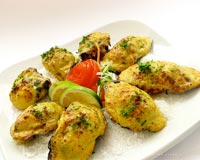 Ingredients:
1/2 Cup butter
2 Stalks celery
1/2 Cup flour
1/2 Cup sweet green pepper
2 Cups oyster juice
2 Cups milk
2 tbsp Red pimiento (charred)
1 Pie shell
Salt and pepper to taste
Cooking Instructions:
Cut celery stalks and green pepper into dices.
Drain the oysters.
Store the oysters and juice.
Heat the butter in a pan.
Add diced celery and green pepper.
Stir in flour.
Cook for 5 minutes.
Keep it aside.
Mix in oyster juice and milk.
Now cook this mixture till thick.
Add salt and pepper.
Now mix with red pimiento and oyster juice.
Stir it.
Pour this mixture into greased dish.
Top with pie shell.
Bake at 375 degrees till golden brown.
Baked Oyster is ready.