Octopus Ball
| | |
| --- | --- |
| Recipe Type: | Non Veg. |
| Difficulty: | Average |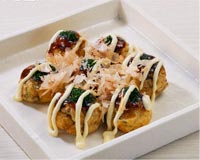 Ingredients:
2 Cups flour
4 Cups dashi soup
3 Eggs
1 Cup octopus chunks (boiled)
1/2 Cup green onion
1/2 Cup red shrimp (dried)
1/2 Cup pickled red ginger
1/2 Cup oil
Mayonnaise and takoyaki sauce for toppings
Cooking Instructions:
Chop the green onions and red ginger.
Add eggs and dashi soup to the flour.
Mix it well to make a batter.
Put oil inside the cups of a takoyaki grill pan.
Pour the prepared batter in the cups.
Add octopus, chopped red ginger and green onions.
Grill till the batter mixture turns round and brown.
Keep the balls in a plate.
Put mayonnaise and takoyaki sauce on the top of balls.
Octopus Ball is ready.