Braised Octopus
| | |
| --- | --- |
| Recipe Type: | Non Veg. |
| Difficulty: | Average |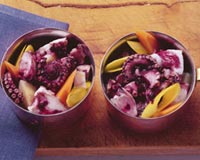 Ingredients:
1 kg Baby octopus
12 Garlic flakes
2 tsp Sea salt
1 Cup sherry vinegar
1/2 Cup virgin oil
1/2 Cup honey
4 Carrots
3 Sticks celery
150 gms Bacon bones (sliced)
1/2 Cup raw sugar
1 Bunch thyme
1/4 Cup red wine
Cooking Instructions:
Peel the carrots and cut into slices.
Cut celery sticks into slices.
Cut tentacles away from the head of octopus.
Clean the octopus and rinse it.
Cut octopus in half.
Mix garlic, chopped ginger and salt.
Prepare a paste.
Stir the paste in vinegar and oil.
Mix octopus with garlic mixture and honey in a separate bowl.
Refrigerate for 1 hour.
Heat the oil in a pan.
Add sliced celery, carrots, bacon bones and salt.
Cook over high flame for 5 minutes.
Now cook over medium till they turn brown.
Add sugar and thyme.
Cook over high heat for 2 minutes.
Drain the octopus and keep the marinade aside.
Put marinated octopus in pan and cook over high heat.
Now add stored marinade and add wine.
Cook over low flame till octopus turns soft.
Braised Octopus is ready.