Baked Beans on Toast
| | |
| --- | --- |
| Recipe Type: | Veg. |
| Difficulty: | Easy |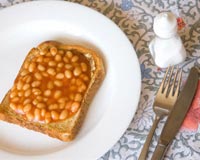 Ingredients:
1 Cup baked beans
1 Onion, chopped
1 Slice bread
1 tbsp Olive oil
1/2 tsp Green chilies, finely chopped
1 Small carrot, chopped
1/2 Cup green peas
1 tsp Red chili powder
1 Small green bell pepper, chopped
1 tbsp Grated cheese
1 tbsp Chopped parsley
Cooking Instructions:
Heat olive oil in a frying pan on medium flame.
Add chopped onions and green chilies.
Fry till the onions become light brown.
Now add baked beans, all vegetables, and red chilli powder.
Mix them properly.
Cook for two minutes.
Meanwhile, toast the bread in a toaster until it turns brown.
Spread the beans mixture on the bread slice.
Garnish with grated cheese and parsley.