Pineapple Sandesh
| | |
| --- | --- |
| Recipe Type: | Veg. |
| Cooking Time: | 30 M |
| Difficulty: | Average |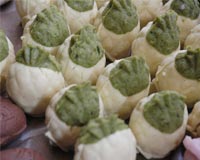 Ingredients:
5-6 Fresh pineapple slices (thick)
1 ltr Milk
1 Cup fresh curd
1/2 Lemon juice
1 Glass chilled water
2 tbsp Sugar
4-5 Drops vanilla essence
Cooking Instructions:
Chop the pineapple into tiny pieces (after discarding 'eyes' and 'bone').
On low heat, put chopped pineapple in a pan and sprinkle 1 tsp sugar over it.
Add 1 tbsp water and cook while stirring till pineapple turns soft.
Remove the pan from heat and allow the contents to cool.
When cooled, drain it through a colander.
Add lemon juice in 1/2 glass water.
Pour milk in a deep pan and boil.
Add curd and mix gently to curdle.
Add lemon-water mixture in it to curdle completely.
When transparency appears in the mixture, take off heat and add a glass of chilled water.
Let it cool for 2 minutes and drain through a muslin cloth to collect remaining chhena.
To cool and wash chhena well, hold the cloth containing chhena like a pouch under running cold water.
Press out gently to remove excess water.
Now remove the chhena from cloth and put it into a vessel.
Add sugar and heat gently, stirring constantly until dissolved.
Take off fire and cool to room temperature.
Churn this sweet chhena in a mixie until very smooth.
Take pineapple in a small cloth and squeeze gently to remove excess water.
Blend this in mixie with vanilla essence till crushed.
Add this crushed pineapple to chhena and mix well.
Spread the mixture on a plate and put it into refrigerator to set and chill.
When almost set, press portions of the mixture into desired moulds.
Allow to set like a soft pudding.
Cut and serve chilled.