Mutsch
| | |
| --- | --- |
| Recipe Type: | Non Veg. |
| Difficulty: | Average |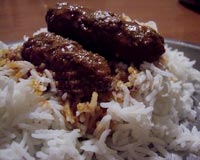 Ingredients:
750 gm Lean minced lamb
1 tsp Fresh ginger (grated finely)
1 tsp Ground coriander
2 Fresh green chilies (finely chopped)
1/2 tsp Chili powder
2 tsp Garam masala
2 tsp Salt
1 tsp Sugar
1/2 Cup yoghurt
1 tbsp Khoya or dried milk (if using khoya, it should be finely mashed)
3 tbsp Ghee
1/2 tsp Ground black pepper
1/4 tsp Ground cardamom
Cooking Instructions:
Put the lamb into a bowl with ginger, chopped chilies, chili powder, coriander, 1 tsp garam masala and 1 tsp salt.
Add 1 tbsp of the yoghurt to moisten and mix well the spices.
If the lamb is very lean, little amount of ghee can also be added.
When done, take a portion of the prepared meat mixture in hand.
Make a little long oval shaped roll with the help of gentle squeeze and toss movements of hand.
Repeat the procedure with rest of the lamb mixture.
Heat ghee in a heavy saucepan.
Add dried milk, sugar, remaining yoghurt, garam masala & salt.
Fry the mixture and then add half cup of hot water.
Bring to boil and then add prepared rolls.
Cover the pan and simmer until no liquid remains.
When done, turn the rolls over, add half cup of hot water and pepper.
Reduce the flame and cover the pan. Simmer again until the liquid is absorbed.
Sprinkle the dish with cardamom.
Serve hot with Indian bread and rice.