Beef Curry
| | |
| --- | --- |
| Recipe Type: | Non Veg. |
| Difficulty: | Average |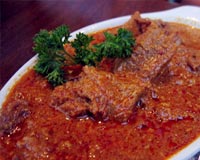 Ingredients:
1 lb Extra lean ground beef
1-1/2 Cups tomato puree
2 Cups pureed onions
1-1/2 tbsp Ground cumin
1/2 tbsp Ground cayenne pepper
1 tsp Turmeric
1 tsp Salt
1/2 Cup canola oil
1/2 Cup raw sugar
1 Cup whipping cream
1-1/2 tsp Dried mint
Cooking Instructions:
Pour oil in a heavy bottomed frying pan and heat on medium high for a minute.
Add onion and saute, stirring constantly until brown.
Add tomatoes puree, cumin, turmeric, cayenne and salt.
Saute for 5 minutes until pulpy & saucy.
Add cream, stir well and simmer for 4-5 minutes.
Now add ground beef to curry and cook for 6 minutes.
Make sure beef is cooked to desired tenderness (don't over cook the beef).
Add raw sugar & mint, cook once more until sugar melts with beef.
Take off heat and cool for 5 minutes with covered lid.
Beef curry is ready to serve hot with rice.