Egg Roll
| | |
| --- | --- |
| Recipe Type: | Non Veg. |
| Difficulty: | Average |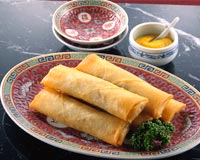 Ingredients:
1 cup Carrots (unpeeled and shredded)
1 cup Cabbage (shredded)
1 cup Pod Peas (cut diagonally in thin strips)
3 cloves Garlic (crushed)
1 medium Onion (finely diced)
8 Green Onions (sliced thin)
½ cup Mushrooms (diced)
½ cup Water Chestnuts (diced)
½ cup Broccoli and Cauliflower Florets (broken into very small pieces)
1 tbsp Worcestershire Sauce/ Fish Sauce
½ cup White Wine
1 tsp Pepper
½ tsp Salt (or to taste)
1 tbsp Cornstarch
25-30 Egg Roll Wrappers
2 tbsp Oil
Oil (for deep frying)
Cooking Instructions:
Heat oil in a large wok.
Add garlic and sauté to brown.
Add onion and stir fry until transparent.
Pour in Worcestershire sauce and add salt and pepper. Mix well.
Add white wine and stir well. Bring the mixture to a simmer.
Add carrots, cabbage, pod peas, green onions, mushrooms, water chestnuts, broccoli and cauliflower. Mix to blend well and cook till the vegetables turn tender.
Dissolve cornstarch with 2 tbsp of water and add to the mixture.
Cook the vegetables, constantly stirring, till the mixture thickens up.
Remove the mixture from heat and allow it to cool.
Place 2 to 3 tbsp of the mixture onto each egg roll wrapper.
Roll up firmly to form rolls.
Heat oil in a deep fryer.
Place a few egg rolls in the fryer at a time.
Fry until they turn brown.
Remove and set aside.
Repeat with the remaining egg rolls.
Serve hot with sauce or chutney.