Meen Varuval
| | |
| --- | --- |
| Recipe Type: | Non Veg. |
| Difficulty: | Average |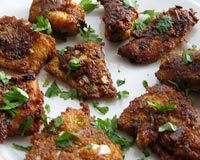 Ingredients:
4 Swordfish steaks, 1/2 inch
2-1/2 tbsp Ground coriander
1 tsp Ground cumin
1/2 tsp Turmeric
6 tbsp Water
Vegetable oil for frying
5-6 tsp Fresh lemon juice
Lemon wedges for garnishing
2 tsp Salt
2-1/2 tbsp Cayenne
Cooking Instructions:
In a skillet, put together cayenne, turmeric, coriander, cumin, salt, lime juice and about 6 tbsp of water.
Mix it properly to prepare a thick paste.
Use this paste to cover both sides of the fish steaks.
Marinate the fish steaks for 15 minutes.
In a frying pan, heat oil.
Fry the steaks until they turn brown. Take two steaks at a time.
Cook either side for 6-8 minutes, turning once.
Place them in a heatproof plate and keep them warm in an oven.
Use lemon wedges for garnishing.
Serve it with rice and naan.