Ginger Chicken
| | |
| --- | --- |
| Recipe Type: | Non Veg. |
| Difficulty: | Easy |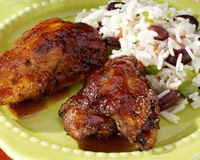 Ingredients:
1 Skinless & boneless chicken breast
2 tbsp Finely shredded fresh ginger root
1 tbsp Finely minced garlic
1 tbsp Soy sauce
1 tbsp Vegetable or peanut oil
1/2 Cup thinly sliced onions
1 tbsp Red wine vinegar
1 tbsp Sugar
Cooking Instructions:
Wash the chicken and cut into small pieces.
Pour oil in a skillet and heat up over medium heat.
Fry onion rings and add ginger & garlic. Fry for about 2 minutes.
Use little water if the mixture sticks to the bottom of the skillet.
Add chicken, cook it properly and keep stirring.
Now add soy sauce, vinegar and sugar.
Cover it and cook for 3 minutes at low heat.