Event Profile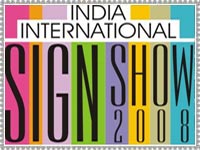 India International Sign Show 2011 is a leading trade event focusing on signage industry. The show exhibits the contemporary products of signage, POP, screen/digital printing technology, and electronic media. IISS 2011 provides a common platform for manufacturers and distributors not only to display their existing products and services, but also to introduce new ones to a large number of potential trade buyers from India and abroad. India International Sign Show 2011 exhibition, covering all aspects of the signage industry, has become the key sourcing point for the signage professionals in the country.
Visitor Profile
Targeted visitors at the India International Sign Show - IISS 2011 trade fair would be: Advertising managers, art directors/creative directors, audio visual producers/directors, brand managers, cinema managers, communication experts, corporate dealers/distributors/wholesalers, advertising & media professionals, decision makers, signage industry professionals, designers/artists, product managers of major companies; professionals from: Ad agencies, all media related associations, banks/financial institutions, consultancy firms, graphic imaging, paper, printing & pre-press industry.
Exhibitor Profile
Exhibitors at the India International Sign Show - IISS 2011 exhibition are companies/firms dealing in: Digital printing machines, signage display graphics, modular systems, LED display systems, software, hardware, composite panels, display stands, building wraps, engraving, fasteners, lamination, flexible display systems, acrylic sheets, application tapes, event related facilities, audio & visual equipment, shop equipment, showroom design, window displays, plasma screens, traffic signage, scoreboards, etc.