Event Profile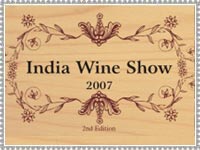 India Wine Show 2009 is an international exhibition and conference on wine industry. The event showcases innovative wine making technologies, opportunities and wine industry scenario. It represents the entire spectrum of the industry from grapes producers to end consumers. India Wine Show 2009 provides an ideal platform for researchers, manufacturers, Indian and foreign firms to expand their business.
Highlight
Highlights of the India Wine Exhibition and conference include: trade seminars, buyers & sellers program, panel discussion, master classes, wine tasting sessions for traders, wine tasting sessions for consumers, Indian Wine of the year award, and Imported Wine of the year award. India Wine Show will be held concurrently with the Krishi exhibition.
Visitor Profile
Targeted visitors at the India Wine trade fair would be: CEOs of wineries, grape growers, entrepreneurs, agriculturists, grape & wine exporters, and personnel from grape nurseries.
Exhibitor Profile
All wine related companies & organizations are invited to exhibit their products, solutions, innovations and services at the India Wine Show 2009.