Event Profile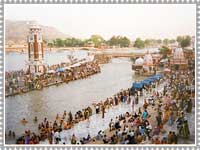 Ardh Kumbh Mela takes place every six years and just like the Kumbha mela, its venue changes every time. The venues of the Ardh Kumbha Mela are Prayag (Allahabad), Haridwar, Ujjain and Nasik. The last Ardha Kumbha took place in the year 2001 and the next is due in the year 2007. Ardha Kumbha Mela 2007 will take place at Prayag, near Allahabad. Both the Kumbha Mela as well as the Ardh Kumbh Mela is thronged by devotees to take a holy dip in the sacred waters.
The holy rivers are believed to offer purity, wealth and fertility to people. Also, it is said that taking a dip in these waters rids a person of his/her sins and helps him/her achieve Moksha (salvation).
Highlight
The bathing dates for Ardh Kumbh Fair of Allahabad are:
January 3rd 2007:
It is also known as Paush Purnima, the day of the last full moon of winter in the Hindu month of Paush.
January 14th 2007:
This date coincides with that of the Makar Sankranti festival and is the first day of the big bathing days.
January 19th 2007:
The day of the Mouni Amavasya, "New Moon of the Saints." On this day, the new members of holy orders are given first initiation.
January 23rd 2007:
Also known as the Vasant Panchami, it marks the fifth day of the bright half of the lunar month and the beginning of spring season in North India.
February 2nd 2007:
The third day of the main bathing days, Magh Purnima is the full moon day.
February 15th -16th 2007:
The day of Mahashivratri, the birth anniversary of Lord Shiva is the fourth day of the main bathing days.