Event Profile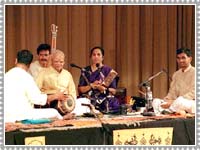 The Chennai Dance and Music Festival is almost a month long event usually held in January. Organized at a number of different venues in the capital city of Chennai, this festival is basically a celebration of the classical music as well as the classical dances of South India. The period of the festival coincides with the Tamil month of 'Margazhi' and is considered as very sacred by the Hindus living there. Since South Indian classical music (Carnatic Music) finds its roots in devotion to the gods, this period was considered appropriate for the celebration of this festival.
Also known as the Margazhi Festival of Dance and Music, this extravaganza finds its origin in the year 1927. During those times, the festival was celebrated as to mark the anniversary of Madras Music Academy in every December. Later, numerous organizations adopted the Dance and Music Festival of Madras and converted it into the huge event it today is. The venues of the festival include numerous auditoriums, heritage bungalows, temple premises, etc. Musicians and dancers from all over the country come to Tamil Nadu to take part in this musical extravaganza.
Infact, as many as 2000 participants come from places far and wide to participate in the over 300 concerts that take place here. In the music categories, there are both vocal as well as Instrumental music performances. The instruments used include Thavil (percussion instrument), Mridangam (drum), Flute, Ghatam (a mud pot), Veena (a large string instrument), Goottuvadyam (similar to Veena but without frets), etc. No discrimination is made here between the artists. Be it junior or senior artistes, upcoming artists or well-established artists, all of them perform at the Chennai Dance and Music Festival.
Around mid January, the focus shifts to Tiruvaiyaru. Now comes the time for the celebration of the birth anniversary Thyagaraja, one of the greatest Carnatic composers and one of the trinity of music.