Event Profile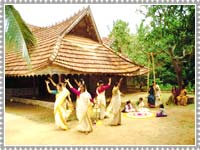 Kerala Village Fair, a cultural event celebrated for ten days in the month of January, is organized at Kovalam Beach and Marine Drive (Ernakulam) in Kerala. It is also called as the Gramam Fair. The fair is a celebration of the tradition and customs of Kerala state.
Thatch houses, known as Nalukettu, are beautifully decorated during the Kerala Village fair and are the venue for folk dances, music and festivities. The interiors of the Nalukettu houses are decorated with some of the most exquisite antiques. Priceless furniture, ethnic jewelry and jewelry boxes, beautiful paintings, musical instruments, palmyra fans, etc, are some of the things on display. On the outside, one can see charming floral decoration, Pookalam, adorning the courtyard. All these embellishments bring back memories of the beautiful bygone era of the state.
And what can be more enchanting than the village belles dancing the Thiruvathira around the tall brass lamp, in the conventional Kerala apparel. The open-air auditorium in Kerala plays host to a number of dance performances, in the evenings. From the typical classical dances like Kathakali, Mohiniyattom, to the traditional and folk dances like Oppana to the martial art forms like Kalaripayattu and other ritualistic folk arts like Theyyam, Pulikali, Villupattu, you will find everything here.