Event Profile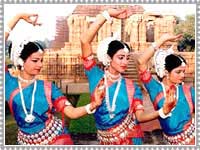 The Konark Dance Festival is organized jointly by Orissa Tourism and Odissi Research Centre. The venue of the festival is the 700-year old Sun Temple, situated on the Chandrabhaga beach of Konark, Orissa. Also known as Black Pagoda, this beautiful temple is built of black granite. It is designed in the shape of the chariot of the Sun God, drawn by seven exquisitely carved horses. The Sun Temple of Konark has also been declared as a World Heritage Site by UNESCO.
The temple also boasts of a splendid Natyamandir, dancing hall, an architectural beauty. This hall is adorned with exquisite artistic designs of the ancient times. Further ornamenting the hall, are sculptures in Odissi dance poses, with musicians playing drums, cymbals and other musical instruments. The Dance Festival of Konark takes place in an open-air auditorium, with the floodlit temple serving as the background.
Artists from different fields of classical dance like Odissi, Bharathnatyam, Manipuri, Kathak, Chau, etc come from far and wide to take part in this festival. The music coming from diverse instruments further add to the enjoyment of the audience. Both connoisseurs as well as amateurs participate in Konark Dance Festival and enthrall the spectators. Along with the dance and music, there is also a crafts mela (fair), offering a wide range of handicrafts as well as some mouth-watering cuisine during the festival.