Event Profile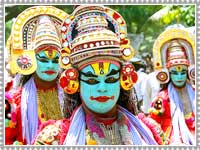 Onam Festival is celebrated throughout the state of Kerala. One of the most important harvest festivals, it falls in the Malayalam month Chingam (August-September). All the celebrations of the Onam Festival revolve around worship, music, dance, sports, boat races and good food. It is the time to thank God for the abundant harvest and enjoy the reward of a year of hard work.
People pray to Lord Vishnu and seek his benevolence. A convoluted procession of Trichur and the entertaining boat races on River Pampa are some of the attractions of the Kerala Onam Festival. One of the most popular boat races is that of "Vallamkali" or a great boat race. This race involves hundreds of men rowing the boats to the beat of drums and cymbals.
The legend attached to Onam goes that it is celebrated in the memory of King Mahabali, the erstwhile ruler of Kerala. Infact, it symbolizes the peaceful reign of the King and the freedom enjoyed by the people under his rule. It is also believed that during Onam, King Mahabali returns to Kerala to pay a visit to his people. At the time of the festival, women dress up in all their finery and ornament themselves with heavy jewelry. Also, they decorate the entrance of their house with intricate designs of Rangoli (colorful drawings on floor).
Though Onam Festival is celebrated throughout Kerala, but the celebrations at Thiruvananthapuram, Trichur and Kottayam are the most magnificent ones. Especially, the Kaikottikkali or Thiruvathirakkali performed by girls, around the traditional brass lamp, leaves you mesmerized.
On an individual basis, the celebrations include cleaning up of the houses by the family members. All the members of the family wear new clothes and decorate the house. The celebrations include preparing delectable sweets and dishes and serving them on the banana leaves. Also, you will see a Pookalam, a flower mat, outside every home. This mat is a symbolic gesture of welcoming King Mahabali.