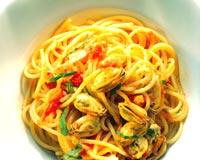 Noodles Recipes
Italian Spaghetti is a yummy and easy to cook recipe.

Hakka Noodles is a delicious Chinese recipe.

Mee Rebus is popular in Malaysia, Singapore and Indonesia.

Chicken Noodle Soup is a very popular recipe.

Vegetable Chowmein is a very nutritious recipe.

Rice Noodle is a very popular recipe.

Chicken and Noodles makes up for an easy evening snack for kids.

Pad Thai is the national dish of Thailand and it literally means Thai style Stir Fry.

Try the delicious Crispy Fried Noodles with Schezuan sauce, soup or any dish of your choice.

Curry Noodle is a popular Thai recipe.

Zucchini Dutch Cheese Casserole is a toothsome recipe.

Thai Noodle Salad is a very popular recipe.

Cheese Lasagna is a meatless lasagna prepared with mozzarella and parmesan cheese.

Noodle Kugel is a very popular recipe.

Noodle Tomato Soup is a very popular recipe.

Chin Chin Noodles With Peanut Sauce is a spicy recipe.

Chicken Lasagna is a nutritious Mexican dish.

Fried Chinese Noodle Cake is a tasty snack, which is shaped like a cake.

Fried Cabbage and Egg Noodles make a light, wonderful, hearty and quick dish.

Vermicelli Soup is a delicious and healthy Soup.

Applesauce Noodle Kugel is a very delicious side recipe.

Singapore Noodles are seasoned with yellow curry powder available in Chinese restaurants.

Vegetable Lasagna is a rich and cheesy American dish loaded with vegetables.

Chicken Laksa is a very popular spicy Thai soup that is quite filling.

Clear Chicken Noodle Soup is a traditional soup from Sikkim, served with steamed wontons.