Indian Recipes : Bandhakopir Ghonto Recipe
Bandhakopir Ghonto is a Bengali recipe. It is also known as Bandhakopir Torkari. Learn how to make/prepare Bandhakopir Ghonto by following this easy recipe.
Bandhakopir Ghonto Recipe
Difficulty
Rating

Recipe Type




Ingredients:

• 1 Cabbage (finely chopped)
• 2 Medium Potatoes (pressure cooked and cut into cubes)
• 1 tbsp Ginger-Garlic-Green Chilies Paste
• 1 cup Fresh Green Peas
• 2 Bay Leaves
• 1-1/2 tsp Red Chili Powder
• 1 tsp Cumin Powder
• 1 tsp Coriander Powder
• 1 tsp Panch Phoron ( grounded)
• 1 tsp Turmeric Powder
• Salt to taste
• Oil as needed


How to make Bandhakopir Ghonto:

| | |
| --- | --- |
| • | Heat oil in a pan and fry the potatoes till golden brown , keep aside. |
| • | Fry bay leaves, ginger-garlic-green chilies paste until the raw smell fades away. |
| • | Now add cabbage and water and cook till soft. |
| • | When soft, combine fried potatoes, peas, cumin, coriander, panch phoron, chili powder, turmeric powder, and salt with it, mix everything thoroughly. |
| • | Cover the pan for another 5 to6 minutes, stir occasionally. |
| • | Now remove from fire and serve with hot rice. |
---
---
Recipe Reviews
Ok recipe - but we don't use garlic or onions in vegetarian recipes in West Bengal.
Submitted by: Joyoti Sen
posted : 26-Oct-2010 05:38 AM
---
The green peas need to be par boiled before adding. Secondly, green chilies should be slit and put else it will add to a pungent taste than to the flavour.
Submitted by: PRIYAKA
posted : 12-Jun-2009 04:08 AM
---
The panch phoron cannot be put raw the methi in it will taste bitter. It should be used as a phoron which is a tarka or when the oil is hot and first thing in the curry . garlic is best left out at it will overwhelm the fine flavours .
Submitted by: madhu gupta
posted : 04-May-2009 02:06 AM
---
Recipe of the Month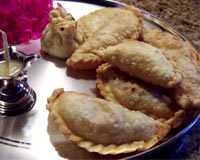 Gujia is a popular sweet dish of north India. Gujia recipe is associated with...