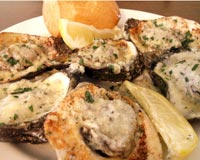 Broiled Oyster Recipe
Broiled Oyster Recipe
Difficulty
Average
Recipe Type
Non Veg.
Ingredients:
10 Oysters
8 Soda crackers
1 tbsp Lemon juice
Fresh Mozarella cheese
Salt and Pepper to taste
How to make Broiled Oyster:
Wash and clean the oysters properly under cold water.
Open up shells.
Leave oysters in deeper shell halves.
Line a baking sheet with aluminum foil.
Put oyster half shells onto aluminum foil.
Sprinkle soda crackers over oysters.
Add lemon juice, salt and pepper.
Top with cheese.
Broil till golden brown in colour.