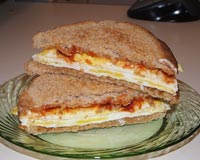 Egg Sandwich Recipe
Egg Sandwich Recipe
Difficulty
Easy
Rating
6.6 /

10

(17 votes)
Recipe Type
Non Veg.
Ingredients:
2 Slices dark rye bread, toasted
1 Large hard-boiled egg
1 tbsp Green onion, chopped
2 tbsp Mayonnaise
2 tbsp Celery, chopped
1 Leaf of lettuce
Pepper and salt to taste
How to make Egg Sandwich:
Peel and chop the hard hard-boiled egg.
Combine together the egg, mayonnaise, onion and celery, mix well.
Add salt and pepper to it.
Spread the egg mixture on the rye bread, add lettuce to it.
Cut it in half and serve.