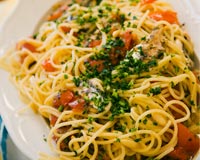 Italian Spaghetti Recipe
Italian Spaghetti Recipe
Difficulty
Easy
Rating
8.3 /

10

(27 votes)
Recipe Type
Veg.
Ingredients:
1 Pound spaghetti
5 Large cloves of garlic, minced
1/2 Cup extra virgin olive oil
1/4 Cup fresh parsley, finely chopped
3 Dry hot red chili peppers, crushed
Salt as needed
How to make Italian Spaghetti:
Cook spaghetti in the salted boiling water.
Meanwhile, heat the oil in a heavy saucepan.
Combine the garlic and chili peppers to it and cook till sizzling but not browned.
Remove it from the fire.
When the pasta is cooked al dente, take out a small cup of pasta water and drain the pasta.
Transfer the pasta to the pot and add garlic, chili oil to it.
Mix well on medium flame till hot, adding a little pasta water if the mixture seems dry.
Combine the parsley to it, mix properly and serve.