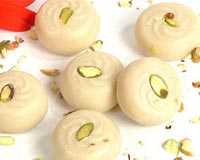 Pedha Recipe
Pedha Recipe
Difficulty
Average
Rating
8.5 /

10

(12 votes)
Recipe Type
Veg.
Ingredients:
2 Cups milk powder
1 1/2 Cup Sugar
1 Cup unsalted butter
1/2 tsp Cardamom powder
Chopped pistachio nuts
How to make Pedha:
Prepare sugar syrup of one thread consistency.
Add unsalted butter to the sugar syrup on medium flame
Stir till the butter melts.
Mix cardamom powder and milk powder to it.
Stir till it turns to cake like batter.
Keep it for cooling.
Make balls from this batter.
Adorn with chopped nuts.