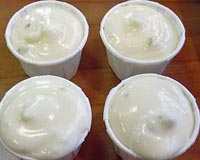 Tartar Sauce Recipe
Tartar Sauce Recipe
Difficulty
Easy
Rating
9.7 /

10

(19 votes)
Recipe Type
Non Veg.
Ingredients:
1 Cup mayonnaise
1 tbsp Minced onion
2 tbsp Lemon juice (optional)
1 tbsp Sweet pickle relish
Salt and pepper to taste
How to make Tartar Sauce:
In a small bowl, mix together the mayonnaise, sweet pickle relish, and minced onion.
Stir in lemon juice.
Add salt and pepper to taste.
Put into the refrigerator for at least 1 hour before serving.