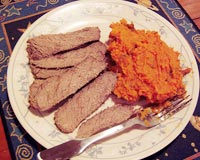 Turkey London Broil Recipe
Turkey London Broil Recipe
Difficulty
Easy
Rating
10.0 /

10

(2 votes)
Recipe Type
Non Veg.
Ingredients:
1-1/2 lb Turkey london broil

Marinade ingredients
1/4 Cup sugar-reduced orange marmalade
1/8 Cup italian dressing
1/8 Cup cranberry juice
1/4 tsp Garlic powder
1/4 tsp Onion powder
1/8 tsp Black pepper
1 tsp Soy sauce
1/4 Cup water
Salt to taste
How to make Turkey London Broil:
Combine all the marinade ingredients in a plastic sealable bag or bowl with tight fitting lid, mix well.
Put the london broil in the bag and coat it well with marinade.
Place it into the refrigerator for about 1/2 to1hour.
Grill over medium low flame for about 45 minutes or until desired doneness.
Let rest for about 5 minutes.
Slice and serve Turkey London Broil.