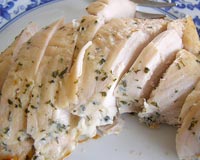 Turkey Tenderloin Recipe
Turkey Tenderloin Recipe
Difficulty
Average
Recipe Type
Non Veg.
Ingredients:
1 lb Turkey breast tenderlions
1 tbsp Lemon juice
1 Pinch black pepper
1 Pinch turmeric
1 Pinch ginger
1 Pinch nutmeg
1/2 tsp Cumin
1 tsp Salt
1 Onion, sliced
1 Pinch saffron
1 Cup chicken broth
1 Garlic clove, minced
1 tsp Cornstarch
How to make Turkey Tenderloin:
Preheat the oven to 375 degree F.
In a baking pan add tenderloin and lemon juice.
Now add spices and rub it into the tenderloin.
Top with garlic and onions.
Roast for about 20 minutes.
Add saffron to the chicken broth and let it stand for about 5 minutes.
Pour it over the tenderloin and cook additional for about 15 minutes, remove it to a dish.
Take a saucepan and pour cooking juices into it.
Add cornstarch, cook till thickened.
Pour this mixture over the turkey.