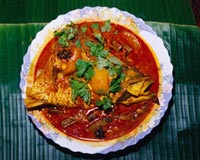 Malaysian Recipes
Putu Mayam is a popular Malaysian breakfast.

Crunchy Peanut Salad is a caramelized pudding recipe with a twist.

Mee Rebus is popular in Malaysia, Singapore and Indonesia.

Nasi Biryani is usually served on special occasions, such as weddings and festivals.

Black Pepper Chicken is a very tasty recipe.

Roti Canai is a popular Malaysian appetiser usually eaten with curry.

Fish Head Curry is prepared from large sized groupers, salmons, cods or red snappers.

Martabak is a popular appetizer usually served with slices of cucumber, onion, and curry sauce.

Pagoda is a popular Malaysian cuisine.

Mutton Ribs Soup is a very nutritious recipe.

Indian Mee Goreng can also be prepared by using lamb, dried squid or fresh squid.

Coconut Crab Curry goes well with steamed rice, roti or some nice crusty bread.

Asian Orange Chicken is a delicious citrus chicken recipe.

Indian Dalcha was originated in South India.

Dry Masala Crabs is a Malaysian dish that goes very well with rice.

Mutton in Spinach Paste is a delicious Malaysian dish in which meat is cooked with spinach puree.

Mutton Dhall Curry goes well with roti canai and rice.

Lamb Cashew Korma is best served with famous Roti Jala.

Roti Telur is a popular supper dish.

Pineapple Shrimp Curry is known as Gaeng Kung in Thailand.

Balinese Vegetable Soup is a very popular Indonesian recipe.

Coconut Tofu Curry is a healthy dish from Malaysian cuisine, perfect for dinner.

Satay Sauce is a very popular recipe.

Malaysian Fish Curry is a spicy and tangy recipe.

Steamed Pomfret In Sauce is a Malaysian recipe.