Indian Recipes : Agra Ka Petha Recipe
Agra Ka Petha is one of the most popular Indian sweet from the city of Taj Mahal, Agra. Learn how to make/prepare Agra Ka Petha by following this easy recipe.
Agra Ka Petha Recipe
Preparation Time
Cooking Time
Difficulty
Rating

Recipe Type

Serves 4




Ingredients:

• 1 kg Ash Gourd (Petha) (peeled and cut)
• 1 tsp Alum Powder (Phitkari)
• 750 g Sugar
• 1 tbsp Lemon Juice


How to make Agra Ka Petha:

| | |
| --- | --- |
| • | Take the ash gourd pieces and prick it with a fork. |
| • | Place the pieces in a large pan filled with water and add alum powder to it. Boil it for fifteen minutes and take off from heat. Drain and wash it thoroughly under cold water. |
| • | In a pan, take one cup of water and add sugar to it and cook it till the sugar is dissolved. |
| • | Add lemon juice to the sugar syrup and lower the flame and add the cooked ash gourd to it. |
| • | Cook till the ash gourd is completely cooked and the sugar syrup is thread like consistency. |
| • | Take off from heat and arrange the pethas in a tray, so that they do not stick to each other. |
| • | Allow it to cool completely. |
| • | Serve. |
---
---
Recipe Reviews
I like this recipe. I thought that it's very difficult to prepare but it seems that it's very easy to prepare. Now I surely will try this.
Submitted by: ANJUSHA MILINS KULKARNI
posted : 03-Apr-2014 10:16 PM
---
thank you sir for your kind informatiom,,, about ,,AGRA KE PETHA
Submitted by: abdul salam
posted : 17-Aug-2011 11:06 AM
---
Recipe of the Month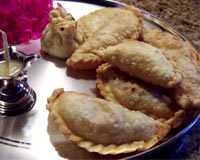 Gujia is a popular sweet dish of north India. Gujia recipe is associated with...