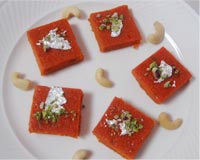 Carrot Burfi Recipe
Carrot Burfi Recipe
Difficulty
Easy
Rating
9.6 /

10

(21 votes)
Recipe Type
Veg.
Ingredients:
1 cup Carrot (grated)
1/2 litre Milk
2 tbsp Ghee
1 cup Coconut(grated)
1 cup Sugar
1/2 cup Broken Cashew nuts
How to make Carrot Burfi:
Heat a heavy bottomed vessel and add the grated carrot to it.Heat it to dry, stirring continuously.
Repeat the same with grated coconut and keep it aside.
Now boil milk with sugar until later dissolves in a seperate pan. Keep stirring.
Mix in the carrot and coconut and again stir until it becomes thick.
When it is cooked well, add the cashew nut pieces.
Apply ghee on a tray and put the mixture in it.
When firm cut into pieces when cool.
Carrot burfi is ready to serve.