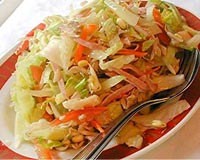 Japanese Ginger Salad Dressing Recipe
Japanese Ginger Salad Dressing Recipe
Difficulty
Easy
Rating
8.2 /

10

(5 votes)
Recipe Type
Veg.
Ingredients:
3 tbsp Fresh ginger root, minced
1/4 Cup soy sauce
3 Cloves garlic, minced
1 tsp Prepared Dijon-style mustard
2 tsp Honey
1 Lemon, juiced
Ground black pepper to taste
1 Cup olive oil
How to make Japanese Ginger Salad Dressing:
Take a small bowl and whisk together the soy sauce, lemon juice, ginger, garlic, mustard, honey and pepper.
Add the oil in a steady stream, whisking continuously.
When the oil is incorporated into the dressing, pour it into a glass jar and let it cool till serving.