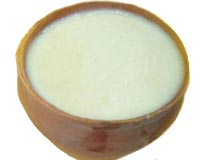 Misti Doi Recipe
Misti Doi Recipe
Difficulty
Easy
Rating
8.1 /

10

(24 votes)
Recipe Type
Veg.
Ingredients:
1 Liter Fat milk
200 gm Sugar
50 gm Curd
How to make Misti Doi:
Boil the milk.
Stir the boiled milk on medium heat till it gets reduced to half.
Mix sugar in milk thoroughly.
Keep the mixture for cooling.
Add curd into this mixture.
Cover it and keep it at a warm place for 8 hrs.
Misti Doi is ready.