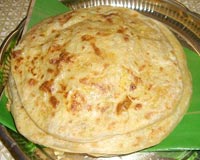 Puran Poli Recipe
Puran Poli Recipe
Difficulty
Easy
Rating
9.3 /

10

(31 votes)
Recipe Type
Veg.
Ingredients:
1/2 kg Maida (All purpose flour)
1/2 kg Lentil (Gram dal)
1 tsp Cardamom powder
1 tsp Ghee
1/2 kg Jaggery
100 ml Oil
Salt to taste
How to make Puran Poli:
Wash and boil the lentil with water and 1/2 tsp salt till it becomes soft.
Cool slightly and strain the dal using a strainer.
Add cardamom powder and jaggery and grind to make fine paste.
If the paste is sticky, keep it on fire to dry up completely. This is puran.
Knead 1/2 kg maida with water and 1/2 tsp salt. Do not make it hard.
Add oil and knead the maida again till oil gets absorbed.
Prepare equal number of balls from maida and puran.
Roll out maida balls to make small pooris.
Stuff these pooris with puran ball.
Roll them again into balls.
Roll out to make chapatis. It is called poli.
Heat a griddle and roast each poli.
Apply ghee on both sides when done.
Serve with hot cup of tea.