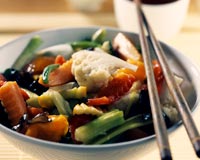 Vegetarian Chop Suey Recipe
Vegetarian Chop Suey Recipe
Difficulty
Average
Rating
8.0 /

10

(5 votes)
Recipe Type
Veg.
Ingredients:
2 Large onions
1/2 Cup mushrooms
2 Cups bean sprouts
4 Dry chillies
3 Stalks celery
3 Garlic flakes (minced)
4 tbsp Oil
Salt to taste
How to make Vegetarian Chop Suey:
Chop the onions and chillies.
Heat the oil and fry onions.
Add minced garlic and bean sprouts.
Mix salt, celery and salt.
Stir it properly.
Cook it till all the vegetables are cooked.
Vegetarian Chop Suey is ready.