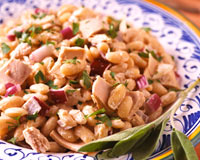 Salads Recipes
Russian Salad is a healthy and nutritious recipe.

Watermelon Boat is a very popular and colorful recipe.

Spicy Poha Salad is a simple, yet delicious recipe.

Pineapple Chicken Salad is a very popular recipe.

Chicken Pasta Salad is healthy salad recipe.

Green Pea Salad is a very delightful recipe.

Polish Cucumber and Sour Cream Salad is a very popular recipe.

Ambrosia Salad is a popular American recipe.

Avocado Salad is a delicious American recipe.

Lettuce Salad is a tasty Italian salad.

Chicken Caesar Salad is an easy to cook and delicious Mexican recipe.

Caesar Salad is a popular Mexican recipe.

Grilled Squid Salad is a delicious Italian recipe.

Japanese Ginger Dressing goes well with shrimp salads.

Carrot Cucumber Salad is a very tasty and healthy recipe.

Cold Corn Salad is a delectable recipe.

Avocado and Pink Grapefruit Salad With Coriander is a tasty and healthy salad.

Cucumber Salad is a very popular recipe.

A delicious salad, Baby Corn Salad serves as a great healthy appetizer as well.

Kosambari (Cucumber Salad) is a must have for any major festival in South India, especially Diwali or Bali Padyami.

Octopus Salad is a low fat seafood recipe.

Cabbage Salad has a tangy taste due to vinegar.

Apple And Cucumber Salad is a tasty salad with a tantalizing dressing.

Baccala Salad is a delicious salad made from cod fish.

Italian Pasta Veggie Salad is a delectable popular recipe.