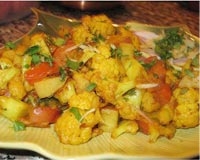 Aloo Gobhi Recipe
Aloo Gobhi Recipe
Difficulty
Average
Rating
6.1 /

10

(36 votes)
Recipe Type
Veg.
Ingredients:
1 Cauliflower
4 Potatoes
1 Tomato
1 tsp Turmeric powder
½ tsp Red chilli
1 tsp Ground coriander
Salt to taste
2 tbsp Oil
How to make Aloo Gobhi:
Wash cauliflower and potatoes and cut into pieces.
Heat the oil and add potatoes and cauliflower and leave it on medium flame for 5 minutes.
Add chopped tomato, turmeric powder, coriander, red chili and salt.
Cook it for 5 minutes.
Serve it with rotis.